Standard Shipping

(Orders within the Continental U.S., based on total price)

Shipper
Minimum Price
Maximum Price
Shipping
Cost
UPS Ground
$00.00
$20.00
$

8.35

UPS Ground
$20.01
$40.00
$

12.15

UPS Ground
$40.01
$60.00
$1

6.50

UPS Ground
$60.01
$80.00

$20.50

UPS Ground
$80.01
$100.00
$

23.75

UPS Ground
$

100

.01
$1

2

0.00
$

32.00

UPS Ground
$

120

.01
$1

4

0.00
$

36.00

UPS Ground
$

140

.01
$1

6

0.00
$

40.00

UPS Ground
$

16

0.01
$1

8

0.00
$

44.00

UPS Ground
$

1

80.01
$

2

00.00
$

48.00

UPS Ground
$

2

00.01

For orders over $200, call for estimated shipping
Home | Products | Quick Order | Recipes | Site Map | Customer Comments | Promotions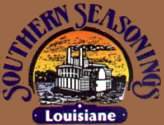 For questions or comments on Bootsie's Products, or just to say "HI", e-mail Southern Seasonings, Inc. at comments@louisianaspice.com
or call (800) 879-5129 or (337) 837-8866. You can also fax us at (337) 837-8864.
Our mailing address is: Southern Seasonings, 206 Burgess, Broussard, LA 70518
Site Designed and Hosted by KWHSBNet.